Inactive Group
This page is about a currently inactive FSFE group. This means that there were no meetings within the last 6 months, and there are no currently planned future acivities. If you want to restart this group, please contact <fellowship AT fsfeurope DOT org>.
Basic Facts
Name

Freizeichen

Description

FSFE Local Group Linz

Coordinators

Johannes (jzarl)
Die Fellowship Gruppe Linz wurde am 04. Oktober 2013 gegründet. Wir halten Treffen am vierten Freitag in jedem Monat im Hackerspace DevLoL ab. Jeder, der sich für freie Software engagieren möchte, ist herzlich zur Teilnahme in der Gruppe eingeladen.
Kontaktmöglichkeiten
IRC: irc.freenode.net (SSL auf Port 7000), #freizeichen

Mailingliste:
Nächste Tätigkeiten
Treffen der FSFE Fellowship Gruppe Linz
Momentan finden keine Treffen statt.
Anreise zum Hackerspace DevLoL
Gerne bieten wir an, Teilnehmer zu Fuß von der Straßenbahnhaltestelle oder vom Parkplatz abzuholen. In diesem Fall bitte rechtzeitig die Mailingliste kontaktieren. Ansonsten ist eine gesonderte Anmeldung zu den Treffen nicht notwendig.
Öffentliche Verkehrsmittel
Vom Hauptbahnhof Linz mit den Straßenbahnlinien 1 oder 2 Richtung Universität oder Linie 3 Richtung Landgutstraße bis zur Haltestelle Hauptplatz (5 Stationen). Anschließend Fußweg ca. 2 Minuten bis zur Hofgasse 19.
Route Haltestelle -> Hackerspace
Mit dem Auto
Wir raten nach Möglichkeit zur Anreise mit öffentlichen Verkehrsmittel
Anreise über A7 (Mühlkreisautobahn) Abfahrt Linz-Urfahr. Kostenlose Parkmöglichkeiten sind am Urfahraner Jahrmarktgelände vorhanden.
Anschließend Fußweg zum Hackerspace etwa 10 Minuten.
Route Parkplatz -> Hackerspace
Mitglieder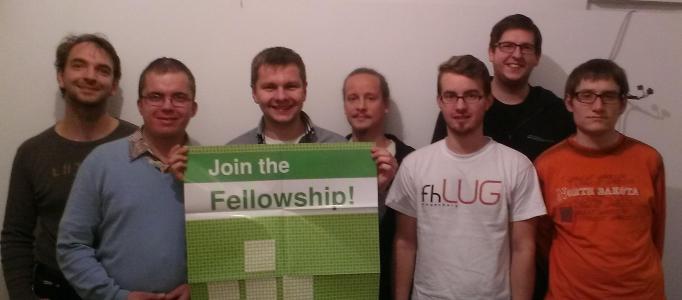 (Gründungstreffen der Fellowship Gruppe Linz: Im Bild sind Mitglieder der Fellowship Gruppe Linz, der Fellowship Gruppe Wien, der fhLUG und der VALUG.)
Simon H. (Koordinator)
jzarl (Koordinator)
Florian Brunner (nicht im Bild)
Zauberfisch (nicht im Bild)
Vergangene Treffen
Weitere IT Gruppierungen in und um Linz
---