Software Freedom Concert 2008
This year we, the Vienna Fellowship Group of the Free Software Foundation Europe, celebrated the Software Freedom Day on September 20th with a concert. The "Software Freedom Concert", as we called it, took place in the Pint Pub, Stroheckgasse 6, 1090 Vienna and started around 9 pm.
Many thanks for the great music by the two bands who participated: Club Valat and Klaus (from Fadin' to Whiteout)!
Of course we also had a booth with information material, Fellowship merchandise and the cool stickers, buttons etc. from the SFD package we recieved. As expected the Ubuntu CDs turned out to be a great giveaway and they were very appreciated by everyone.
Before, between and after the bands played, one of us held little speeches to inform the audience about the nature and importance of Free Software. This was necessary since we had a mixed audience, partly with zero knowledge in the field of software. However, this was exactly our goal: to reach people which we would not have reached with some ordinary talk - but with a concert.
We were also very happy about the visit from a group of participants of the Linuxwochenende ("Linux Weekend" in english). We organised a guide, that, after the last talk, directed a whole bunch of them to the concert.
Summing up, we had a great atmosphere, outstanding bands and definitely a lot of freedom. Apart from the speeches, after the performance we also had many interesting discussions and therefore think that we could raise the awareness for the importance of Free Software among the audience. Now, that we got some experience in organising such an event, we are looking forward on SFD 2009, where we will go for an even cooler and bigger event...
Photos
Miscellaneous Material
The Flyer
We printed it on bright green paper, and of course in higher resolution: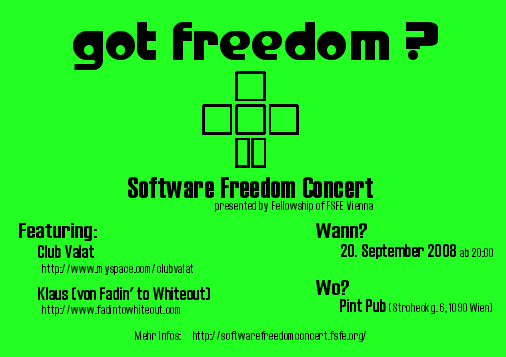 SFD Team Site
We used the SFD Team Wiki to announce the concert:
http://www.softwarefreedomday.org/teams/europe/austria/vienna/fsfe/sfc2008 (german)
http://www.softwarefreedomday.org/teams/europe/austria/vienna/fsfe