FSFE Web-A-Thon 2019
Start

2019-05-24

End

2019-05-26

Location

Frankfurt (Main), Germany

bgcolor

#FFFFFF

Description

The FSFE local group Rhein-Main is inviting our community to the first web-a-thon in 2019.
About the FSFE web-a-thon 2019
The FSFE's web-a-thon is a meeting among friends and supporters of the FSFE with the intend to have a great time with each other and to collectively work on our homepage. In order to participate, you need first and foremost a desire to spend a weekend together among like-minded people and at the same time get some burning issues done.
The web-a-thon 2019 will happen from 24th to 26th of May in the rooms of the local Chaos Computer Club Frankfurt (Main). The date is big with fate! On the 25th is the International Towel Day, so don't forget to bring a towel! : ) And on the same weekend are - the actual day is depending on the country you vote - the European Elections 2019. Means don't panic and make sure you made a postal vote before.
What we are doing
You do not necessarily need to be a master in HTML or Git! You actually do not even need to put your hands on any page or markup language. In a web-a-thon you are also welcome to do anything else that improves our web-presence and we encourage your participation as a non-techie. For example you can use the momentum to translate our pages into your language, to create new graphics to use, to improve our wiki-pages or our (technical) documentations or anything else you have in mind and that is related to our web presence. And the best is: You can do this together with other geeks from the web-team, you can ask for help or input and share your ideas or improvements.
Just be aware, that a web-a-thon is not "like the community meeting". Of course, we are people from our community who meet, but unlike our annual community meeting, there will be no talks and no strategy discussions. Instead, we concentrate on the web-page and work individually or in small groups - while all together on the same overall project. And in the evenings, of course, we all sit together and have a lot of fun during our social events : )
Participants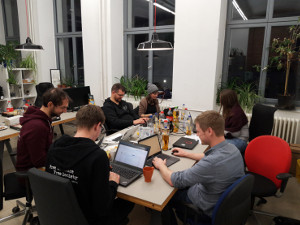 The local Chaos Computer Club in Frankfurt will offer their rooms for our web-a-thon. We will prepare the location and an issue-tracker to work on for the web-a-thon to facilitate the creation of groups and enable to also work on more complex issues together. To do this properly, we need to know about your participation. We extended the deadline. If you have interest to be part of the web-a-thon, please put your name in this list until April 30 with a maximum of 15 people. Currently 3 places left:
Max Mehl
Erik Albers
Michael Weimann

Thomas Doczkal <doczkal AT fsfe DOT org>

Susanne Eiswirt
Johannes Zarl-Zierl
Heiki Lõhmus
André Ockers
Alexander + Alexandra Busch
Vincent Lequertier
Ulf Jasper
[You ?]
In preparation
Please, make sure you bring a device. If you cannot, let us know. FSFE can maybe offer a device to use.
If you like to work directly with our web-page, please make sure that your device
Location
The venue's address is: Chaos Computer Club Hackerspace, Häuser Gasse 2, 60487 Frankfurt am Main
The best way getting there by public transport is to take any S-Bahn to Westbahnhof.
Accommodation
You can find a hotel close to the venue and worth the money here:
next to the location: Hotel ibis Frankfurt Messe West (~ 55€ / night)
~0,5km: Fleming's Conference Hotel Frankfurt (60 € / night)

~1km: Mercure Hotel & Residenz Frankfurt Messe (60 € night)

~1,5km: ibis Frankfurt City Messe (~ 50 € / night)
There are also cheap hostels in Frankfurt. The connection to "Westbahnhof" is quiet good, so any location around Frankfurt City (not Airport) should be fine.
Else you are of course free to choose any other location to stay.
Michael (mweimann@fsfe.org) offers one place to stay on his sofa (could offer more if you bring a sleeping mat). First come first serve.
Agenda
There will be a social event on Friday evening, 24th of May. The web-a-thon will be the whole day on Saturday, 25th of May followed by another social evening. On Sunday, 26th the web-a-thon will end in the afternoon.
For the technical part, we collected tickets in our issue tracker in a milestone.
Practical Information
There is financial help for attendees available up to 150 Euro upon request.
---